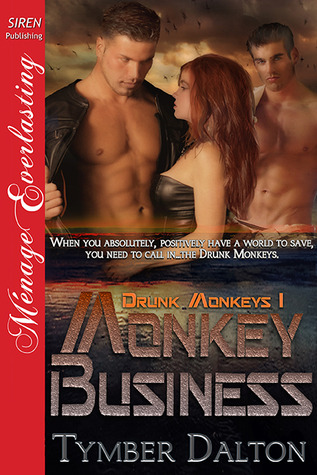 Monkey Business by Tymber Dalton
Series: Drunk Monkeys (# 1)
Release Date: June 23, 2014
Publisher: Siren Publishing
Pages: 209
Source: Book provided by the author for review

When you absolutely, positively have a world to save, you need to call in…the Drunk Monkeys.

Tango and Doc are part of the Drunk Monkeys elite special ops unit. They've been given a mission, to bring in a scientist who may have some answers and use reporter Celia Jorgens to find him. Unfortunately, it turns out shadow factions want them to fail, and the men no longer know who they can trust.

Now, it's up to Celia and the Drunk Monkeys to go off-the-grid and commit a little monkey business of their own before time runs out for the human race.